Xgrid Controller
To use Xgrid you need to have at least one Xgrid controller running on your network.
Starting the Xgrid Controller
If you have a Mac OS X Server (Tiger or later), this would be a good choice for the Xgrid controller. Run Server Admin, select Xgrid in the Computers & Services list, and configure Xgrid as follows: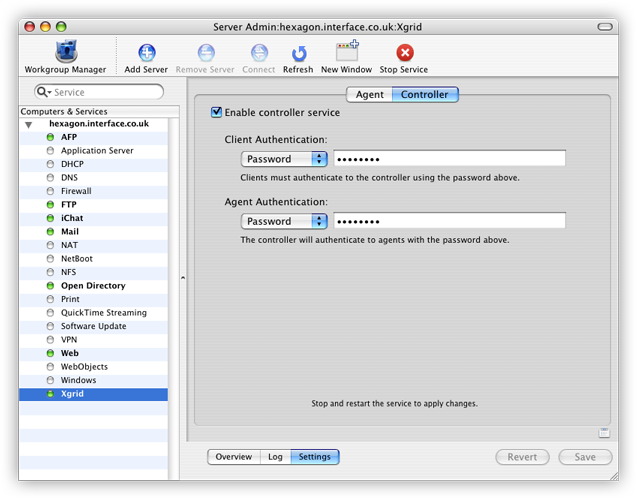 The Client Authentication password is the password you will use to connect to the Controller.
The Agent Authentication password is the password that the controller will use to connect to Agents.
If you don't have Max OS X Server you can download XgridLite, a free Preferences panel that will turn on the Xgrid Controller on any post-Tiger Mac. It was developed by Ed Baskerville and is available for download from his site:
http://edbaskerville.com/software/xgridlite/
Although the latest compatibility information is for Snow Leopard, I have used it successfully with Lion.
After installing the Preferences panel, as described in the Read-Me file with XgridLite, you can enable the Xgrid controller and set the Client Authentication and Agent Authentication password: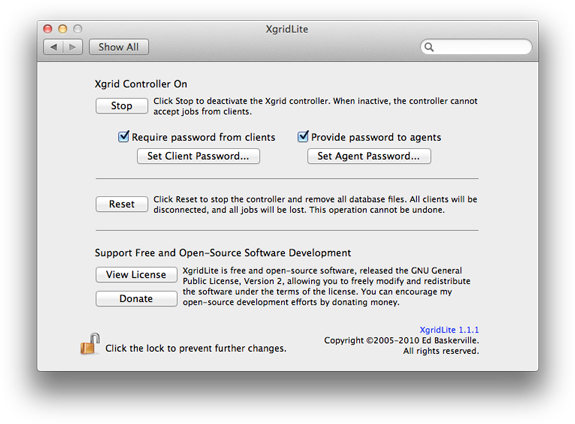 ---
blog comments powered by

Disqus